Welcome to Windermere FL the finest city in Central FL. Windermere Florida is best known for its natural beauty and the many luxury home communities that are situated along the shores of the the Windermere FL Chain of Lakes.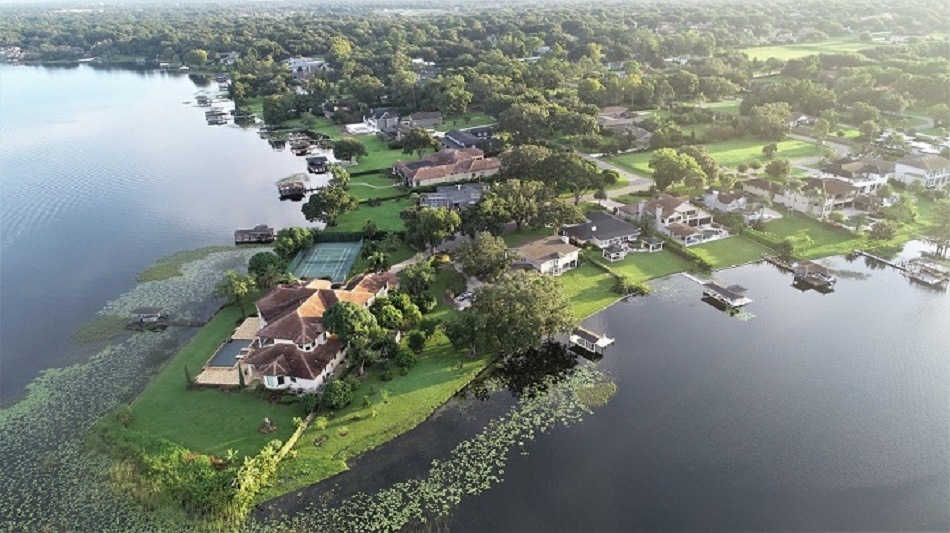 There are 13 lakes included in this chain most of which are within this city. The lakes are connected by canals allowing you to drive a boat from lake to lake. Each link below provides much more information about each lake and photos or videos of them.
The lakes in alphabetical order are Blanche, Butler, Chase, Fish, Isleworth, Lake Down, Little Lake Down, Louise, Pocket, Sheen, Tibet Butler, Un-named Lake (Tibet Cove)&Wauseon Bay.
Boat traffic is usually fairly light because there are only two public boat ramps providing access to these lakes. Most boaters use neighborhood boat launches or private docks and there is no public ramp on Lake Butler.
Is Windermere FL a good place to live?
Only if you want to live in a beautiful home in a beautiful area with great schools, the best golf in Florida and of course the worlds best amusement parks are only minutes away. The city established in 1889 as first incorporated/chartered in 1925.
Windermere has an amazing history and so does the place Windermere FL was named after. You can enjoy viewing several historic buildings and sights in downtown Windermere as it has retained much of its heritage and natural beauty. All of which can be viewed just off of Main Street in the downtown area of Windermere.
May because the town population is so low. It is somewhat ironic how some of the most modern homes in Central Florida are right here in the historic town of Windermere. The Greater Windermere area includes all of the 34786 zip code. The Greater Windermere area has a population of over 31,740 and its' total size is 19.91 square miles. That is far more than in the town itself. The entire area is family friendly no matter the family makeup or religion you choose. Windermere Florida has families move here from all over the world and many households contain two or more races.
Motto: "Among the lakes"
Where is Windermere FL? You will find the government offices on Main Street in town about 9 ½ miles west southwest of Downtown Orlando. The town is actually quite small but the area that bears/ benefits from the name is the entirety of the 34786 zip code. Lake Butler is not only a lake but also an unincorporated area south of Windermere FL. Some refer to Lake Tibet as Lake Tibet Butler.
The town measures a mere 2.2 miles from its northern to southern ends and its' total area is 2.69 square miles some of which is water. The town population is around 3,500 people. Those 3,500 town residents live in the town of Windermere and on the western side of the actual city is Lake Butler of the famous Butler Chain. Many of the them are under a square mile.
Don't expect the town population to increase much as there is little room. The average household size is 3-4 occupants. Most residents speak English. Violent crimes are virtually non-existent and the median age is just over 50.
Windermere FL weather is some of the best in Central Florida. It seems that being surrounded by lakes and golf courses has even more benefits than one may first realize. Those cool lake breezes, lack of the concrete and blacktops found in Downtown Orlando and other cities helps to moderate the temperature.
Record High Temperature
The record high temperature for Windermere FL is only 101 while the record low is 19 degrees which took place back in 1985 when Windermere had few town residents. Isleworth actually derived its name from the Isle of Worth because the local bodies of water helped keep the orange crops from freezing.
Although the lakes which are members of the Butler Chain of Lakes are the most famous Windermere FL actually has many more. Some of those are Lake Bessie, Lake Brenda, Lake Burden, Lake Buynak, Lake Caywood, Lake Caruso, Lake Clarice, Lake Crescent, Lake Cypress, Lake Mitzi, Lake Olivia, Lake Reams, Lake Rhea, Lake Roberts, Lake Roper, Lake Sawyer, Lake Sharp, Lake Smith, Lake Spar, Lake Speer, Lake Story, Lake William Davis& Lake Whitney. You will find then various distances around the town of Windermere and well suited for fishing.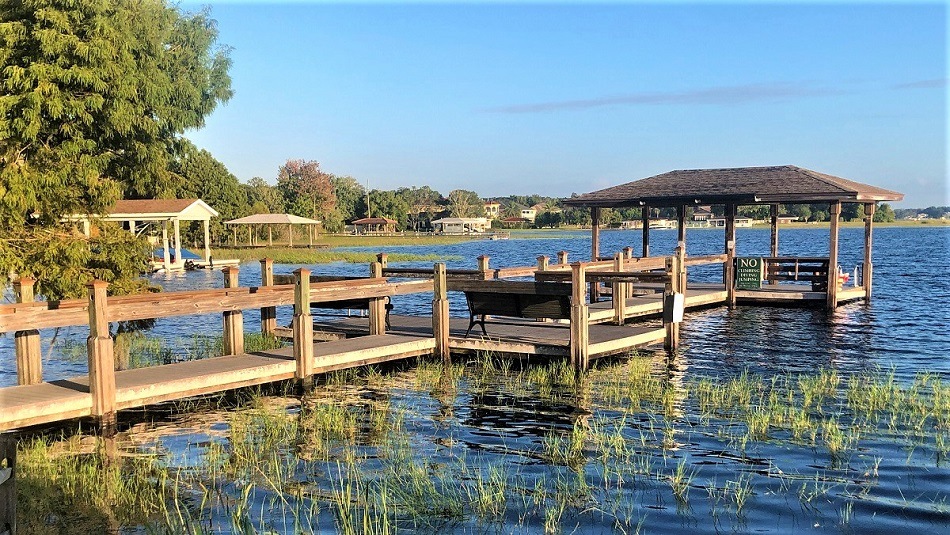 As you should expect the city has many parks for the town residents. These parks are well maintained and very conveniently located. Depending on where you live you may be within a short walk of one.
There are tennis courts, basketball courts and of course playgrounds. Here is a list of of most of the Parks in the town of Windermere. Central Park, Lake Down Boat Ramp, Lake Street Park, Lakeside Village Park, RD Keene Park, Tennis Courts, Windermere Recreation Area.
For those that want more Walt Disney World is within just a few miles. Below are links to government offices and the Windermere Police Department.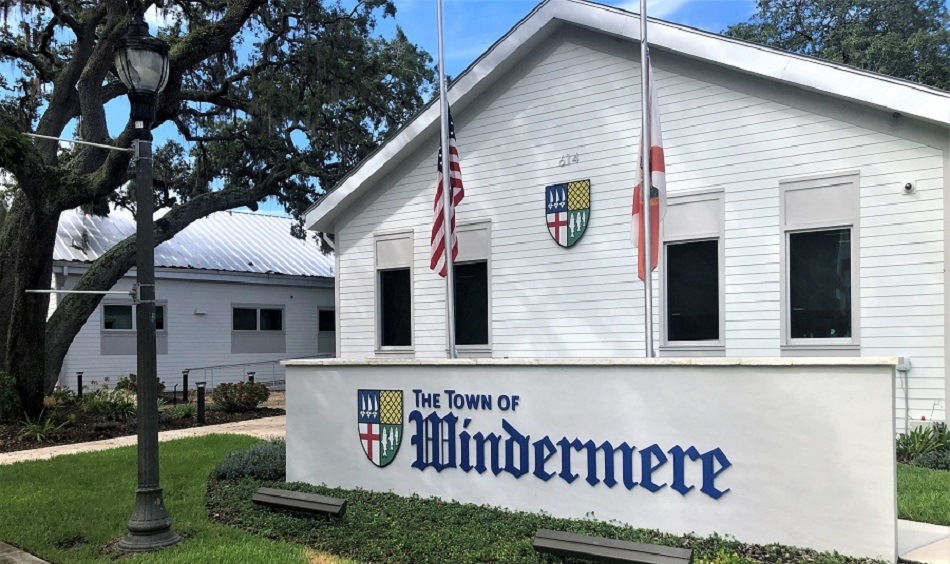 Government Offices
Windermere FL Education
Children of residents of Windermere FL and the 34786 zip code will be attending schools in the Orange County Public School System. The High Schools include Windermere High School which primarily served the western part of the 34786 zip code.
Olympia High School which usually covers the Town of Windermere and the eastern part of the applicable zip code. This city is well known for providing excellent schools and OCPS has a fantastic website. It is highly recommended that if schools matter then consider moving to this city.
If sending your children or young adults to the best school in the state and possibly the nation sounds attractive then consider Windermere Preparatory School. Located on the west side of Lake Butler this is Windermere FL's best choice for those that opt for second to none.
With an amazing campus and a reputation unmatched in the state of Florida you cannot do better in Windermere FL.
Windermere Florida real estate just keeps thriving. Sometimes it amazes me how many famous people have chosen to reside in Windermere FL. That amazement passes fairly quickly when we remember what this city has to offer and what attractions are a very short drive from Main Street in Windermere FL.
Many of the homes here witness the fireworks display held in Walt Disney World nightly. Many more homes will here the rumbling sounds of those same fireworks.
The Attraction To This Area
The attraction to Windermere is so strong that many people remodel and upgrade homes here. There are several newer communities spread around the town but land is rather scarce. That does not deter those who have chosen this area. Being affordable helps quite a bit when the median household income is $202,575 per year.
Windermere FL Real Estate
The Windermere FL real estate market is fairly strong. The volume of sales has recently declined but the median price is still higher than surrounding areas.
Windermere Florida Property Tax Revenue
The average property tax revenue (rate) is 1.11%. The Median Florida Property Tax Revenue amount is $6,302. Windermere Florida is in Orange County. Contact Orange County to confirm the property tax revenue rate for them as it is changing.
Neighboring Cities That Border This City
Some of the neighboring cities include Winter Garden, Orlando, Gotha and Ocoee FL. Of those choices Winter Garden is probably the most modern and best place to live. Winter Garden also has a thriving Farmers Market even larger than ours. Butler Bay is an area north of Windermere Florida. Butler Bay is a fairly large area and just never took off like Windermere Florida did. Now Butler Bay Drive that passes through the Windermere Club is basically all that still holds the Butler Bay identity. Records of Butler Bay and annexation are still being clarified by us. When we can we will post more information on Butler Bay.
The Best Neighborhoods
Keenes Pointe, Isleworth and similar luxury home communities have hundreds or over 1000 homes. Many of those homes have already been remodeled to suit the taste of their new owners.
Those owners deemed the location of the home more than worth it. This scenario plays out many times each year in the most premium locations. 950 people in the previous 12 months deemed the price of housing to be worth it to live in Windermere FL.
Currently there are sever new construction neighborhoods being built. One was established east of Windermere Florida and a new one is well underway is southwest Windermere Florida. The latter community location is near Disney University and is by Dream Finders homes.
Gated Communities in Windermere Florida
Windermere Florida has many gated communities. An owner of a luxury home often wants it within a more secure environment. One can debate the average security of a community but the residential owner living in one will tell you there is at least less traffic on the street. A quiet street is a safer street.
Isleworth in Windermere Florida
Isleworth was established as a community in the late 1900's. The golf course is amazing and so are the many shorelines that wrap around the community. After avoiding annexation Isleworth continued to prosper and today it is the finest community in located in Windermere Florida. It's residents are most often owners as few properties lease.
Keenes Pointe in Windermere Florida
Keenes Pointe is famous for having over 1,000 luxurious residences, a Jack Nicolaus Signature Golf Course and and the Golden Bear Club. An owner here does not have to be a member. An owner however does have affordable membership options.
If you are considering being an owner here reach out to us. This community is a large part of the Windermere FL real estate market.
Waterstone on Lake Butler
Waterstone in Windermere Florida is not a golfing community. Some of the neighborhood is lakefront which ads to why it is may personnel favorite. Very few would say that the mansions here compare to Isleworth but Waterstone does have a grand entrance and only the areas finest builders were allowed to build here. Cost is not as high as in Isleworth, the residents are happy and the community is certainly far better than average.
Casabella at Windermere
Casabella in Windermere Florida is west, although just a short drive from the town of Windermere. Residents of Casabella own property built by Toll Brothers. The concrete wall tells you the sale of these houses are not to be take lightly. This is one of the finest neighborhoods in all of Orange County.
The Reserve at Lake Butler Sound
The Reserve at Lake Butler Sound is west of the Windermere Florida town. It is east of Isleworth and north of Keenes Pointe. All three of these communities have entrances on Chase Road.
The Reserve at Lake Butler Sound contains the Versailles Mansion that is located on lakeshore. Windermere Florida has many famous residents but no single property will match the Versailles for size or style. The population of this community could probably all cram into it.
Chaine Du Lac in Windermere Florida
Chaine Du Lac or "chain of lakes" is located on the north shore of the areas most famous body of water. Orange County is well known for having secret enclaves with mega wealthy owners and so is Windermere. This community has properties both old and new. If you get the chance it is worth driving east of Windemere town to view.
Windermere FL is Incredible
We certainly hope we have done this city justice. We love it here for so many reasons. Main Street is great and so are the people living within the town. Soon we hope you feel the same way.
Consider visiting the Farmer's Market held on the west side of Main Street. You will begin to see what Windermere is all about. Afterward take a look at the Windermere town and maybe have an ice cream or pizza. You can do both right here in Windermere.
All listing information is deemed reliable but not guaranteed and should be independently verified through personal inspection by appropriate professionals. Listings displayed on this website may be subject to prior sale or removal from sale; availability of any listing should always be independent verified. Listing information is provided for consumer personal, non-commercial use, solely to identify potential properties for potential purchase; all other use is strictly prohibited and may violate relevant federal and state law. The source of the listing data is as follows: Stellar MLS (updated 2/2/23 10:22 PM) |