Nestled in the heart of Central Florida, Windermere is a charming lakeside town boasting a rich history, luxurious real estate, and an exceptional quality of life. With easy access to Orlando's world-famous attractions, Windermere Florida offers the perfect balance between serene lakeside living and vibrant city life.
Let's take a closer look at this enchanting town and discover what makes it a sought-after destination for those seeking a taste of Florida's finest.
Short Summary
Explore Windermere, Florida: a lakeside haven with rich history and preserved cultural heritage.

Enjoy quality of life in the affluent community with low crime rate, diverse population and plenty of amenities & activities.

Experience luxury real estate amid nature's beauty plus access to renowned Orlando attractions nearby.
The Charm of Windermere: A Lakeside Haven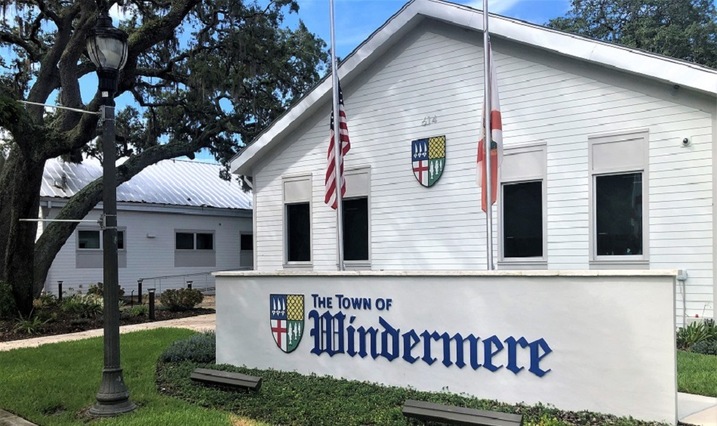 Windermere is a hidden gem situated among the Butler Chain of Lakes, encompassing a picturesque landscape that stretches across 2.69 square miles, with a population of approximately 3,500 residents. The town's prime location in Central Florida, combined with its moderate temperatures and cool lake breezes makes it a desirable place to live and visit.
With a rich history dating back to the mid-1880s, Windermere has managed to preserve much of its cultural heritage and natural splendor, evident in the charming downtown area and prominent landmarks.
The Origins of Windermere
The story of Windermere began in the mid-1880s when Englishman Stanley Scott built his residence in the area, naming it after England's renowned Lake Windermere. The town's development continued with the opening of a post office in 1888 and the establishment of the Windermere Improvement Company in 1910, which helped shape the community we know today.
The official founding of Windermere as a city occurred in 1925 and since then the town population has grown into a beautiful and thriving community in the heart of Orange County, Florida.
Disney's Influence on Windermere
An interesting chapter in Windermere's history involves the construction of Walt Disney World. During this time Disney executives Don Edgren, Bob Allen and Admiral Joe Fowler resided in the town, leaving an indelible mark on the community.
The presence of the Versailles Mansion in The Reserve at Lake Butler Sound, both located within Windermere, further emphasize Disney's influence on the area. These luxurious properties serve as a testament to the town's allure and its connection to the magic of Disney.
Living in Windermere: Quality of Life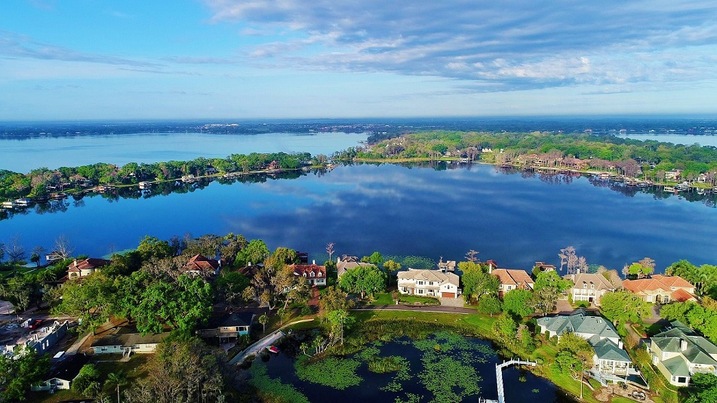 Windermere is known for its high quality of life, characterized by its affluent population, low crime rate and stunning lakes. The town boasts a diverse community, with many households comprising two or more races and a median household income of $202,575 per year.
Offering an array of amenities and activities for residents of all ages, Windermere provides an ideal environment for families, retirees and professionals seeking a tranquil yet vibrant lifestyle.
Education in Windermere
Families in Windermere benefit from excellent educational opportunities provided by the Orange County Public School System, including Windermere High School and Olympia High School.
In addition, the prestigious Windermere Preparatory School, located on the west side of Lake Butler, offers students an unparalleled educational experience with a beautiful campus and top-tier facilities. The town's commitment to education further enhances the overall quality of life for its residents and ensures a bright future for the community.
Outdoor Activities and Recreation
Windermere's picturesque lakes and parks provide ample opportunities for outdoor activities and recreation. Town residents and visitors can enjoy water skiing, boating and fishing on the thirteen lakes that make up the Butler Chain of Lakes as well as blueberry picking and lake tours.
The town is home to numerous parks, such as Central Park, Lake Down Boat Ramp and Lake Street Park which offer additional spaces for activities like kayaking, biking and tennis. With so much to see and do, Windermere truly offers something for everyone who loves the great outdoors.
Windermere Real Estate: Luxury Amidst Nature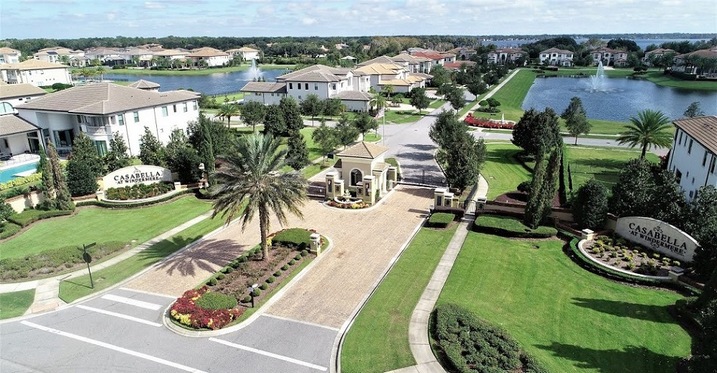 Real estate in Windermere is synonymous with luxury and exclusivity, offering some of the most sought-after properties in the Greater Orlando area. Homes in the town typically command higher prices compared to other areas of Orange County, reflecting the desirability of the location and the quality of life it offers.
Gated communities such as Keenes Pointe and Isleworth are especially popular due to the increased security and reduced traffic they provide. Both are near main street in Downtown Windermere.
Premier Communities in Windermere
Keenes Pointe is a notable residential community in Windermere, featuring over 1,000 luxurious homes and a range of exclusive amenities like the Jack Nicklaus Signature Golf Course and the Golden Bear Club.
Another prestigious community is Isleworth. It was established in the late 1900s and is renowned for its golf course and numerous shorelines. These premier communities showcase Windermere's commitment to luxury living amidst the natural beauty of its lakes and landscapes.
Property Taxes and Home Values
The relationship between property taxes and home values in Windermere is an important consideration for potential homeowners. The average property tax revenue rate in the town is 1.11%, which may be subject to change. It's essential to verify the current property tax rate with Orange County when considering a home purchase in Windermere.
With a variety of luxurious properties to choose from, buyers are sure to find their dream home in this beautiful lakeside community.
Dining and Entertainment in Windermere and Nearby Areas
Windermere offers a delightful selection of dining and entertainment options for residents and visitors alike. From local eateries and cafes to easy access to Orlando's world-class attractions there's always something to do summer or winter around this charming town.
Whether you prefer a quiet meal at a quaint cafe or a day of adventure at a nearby theme park, Windermere has you covered.
Local Eateries and Cafes
A variety of local eateries and cafes can be found in Windermere, offering a taste of the town's culinary scene. Popular spots include Dixie Cream Cafe, My French Cafe, and Bella Tuscany each providing a unique dining experience for visitors and residents alike.
Just a short drive away in the neighboring village of Gotha, the Yellow Dog Eats Cafe, owned by Fish Morgan, is another must-visit destination for food enthusiasts.
Proximity to Orlando Attractions
One of Windermere's greatest advantages is its close proximity to Orlando's major attractions. Just a few miles away, Walt Disney World, Universal Studios Florida and SeaWorld Orlando offer endless entertainment options for families and thrill-seekers alike.
With such a wide array of attractions within easy reach, living in Windermere ensures you'll never run out of exciting things to see and do.
Surrounding Cities and Communities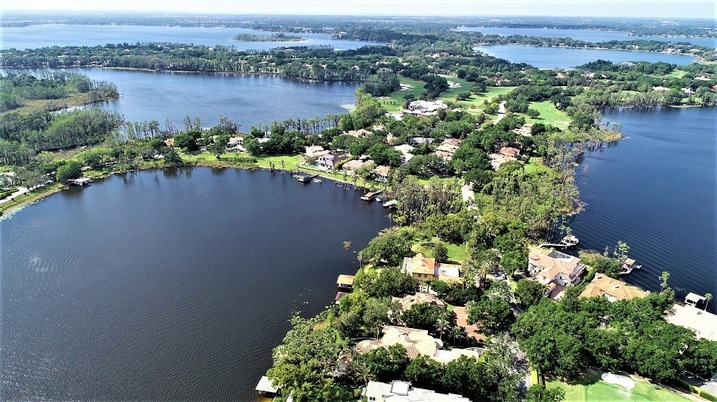 Windermere's neighboring cities and communities contribute to the overall appeal of the area. Winter Garden, Gotha, Ocoee and the Windermere Club community along Butler Bay Drive each offer their own unique charm and attractions.
Winter Garden, in particular, is considered one of the most advanced and optimal places to reside in the area. These surrounding communities further enhance the allure of Windermere and provide additional options for those seeking the perfect Florida lifestyle.
Summary
In conclusion, Windermere, Florida is a captivating lakeside town offering an unparalleled combination of charm, history, luxury and convenience. With its prime location on the Butler Chain of Lakes, exceptional quality of life, top-notch educational facilities and easy access to Orlando attractions, Windermere truly is a gem in the heart of Central Florida. Discover the enchanting allure of this town for yourself and experience the best that Florida living has to offer.
Frequently Asked Questions
Is Windermere FL expensive?
Overall, it can be concluded that Windermere is an expensive place to live, with housing being particularly expensive.
The cost of living in Windermere is significantly higher than in other parts of the country, making it difficult for many people to afford to live there. The high cost of housing is the main factor.
What is Windermere Florida famous for?
As a beautiful small town situated on the shore of Lake Butler, Windermere is renowned for its picturesque lakeside scenery, abundant wildlife and sense of tranquility. Notable residents have also contributed to the area's fame, adding a rich cultural element to this charming town.
With its stunning natural landscape and vibrant local community, Windermere is a paradise to behold.
Is Windermere a suburb of Orlando?
Yes, Windermere is a suburb of Orlando. Located in Orange County, Florida, Windermere has a population of 3,030 as of the 2020 census and is part of the Orlando Metropolitan Statistical Area.
The town is only a handful of stores and restaurants downtown and offers a charming, historic feel with brick-paved roads, large oak trees, roundabouts and mature landscaping.
Where is Windermere in relation to Orlando?
Windermere is located in Orange County, Florida, approximately 18 miles west of the city of Orlando. It lies within the Southwest corner of the Greater Orlando Metropolitan Area and is surrounded by Ocoee to its North, Walt Disney World to its South, the Dr Phillips community to its East and Winter Garden to its West.
The town of Windermere is known for its historic charm and picturesque views. It is home to many luxury homes, golf courses and parks. The town is also known for its historic buildings.
All listing information is deemed reliable but not guaranteed and should be independently verified through personal inspection by appropriate professionals. Listings displayed on this website may be subject to prior sale or removal from sale; availability of any listing should always be independent verified. Listing information is provided for consumer personal, non-commercial use, solely to identify potential properties for potential purchase; all other use is strictly prohibited and may violate relevant federal and state law. The source of the listing data is as follows: Stellar MLS (updated 9/24/23 7:23 PM) |