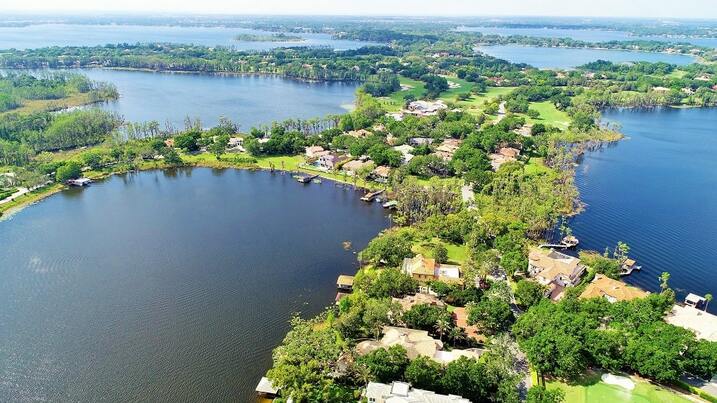 The Isleworth Country Club in Windermere FL
Discover the Best of Isleworth - Golf, Real Estate & Country Club in Windermere, Florida
Welcome to the world of Isleworth where luxury living, championship golf and breathtaking real estate collide to create a truly unforgettable experience. Nestled in the heart of Windermere, Florida, this prestigious gated community offers the ultimate in upscale living, exclusive amenities and a rich history. Ready to discover the best of Isleworth? Let's dive in!
Short Summary
Discover the Best of Isleworth - Golf, Real Estate & Country Club in Windermere, Florida.

Enjoy luxurious amenities and championship golf course designed by Arnold Palmer and Steve Smyers.

Find your dream home with private boat docks located in Central Florida's premier location surrounded by fine dining, shopping destinations and entertainment attractions.
Experience Isleworth Golf & Country Club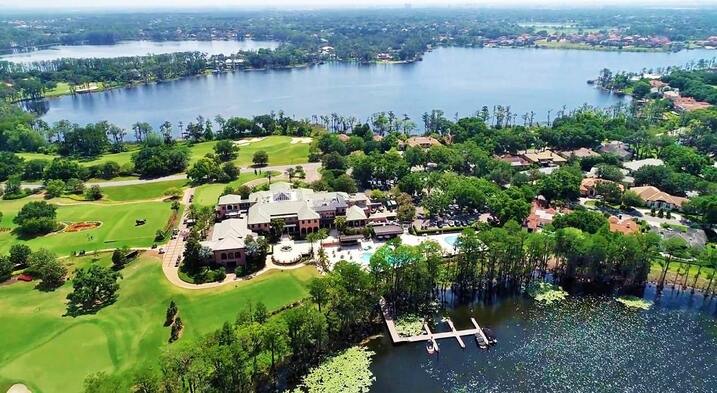 Imagine a place where the finest in golf, tennis and fitness facilities come together in perfect harmony. That's Isleworth Golf & Country Club, a prestigious sanctuary in Windermere, Florida. With its luxurious 89,000-square-foot Mediterranean-style clubhouse members can enjoy an array of amenities from the modern fitness center and spa to versatile meeting and event spaces.
The club also provides access to seven miles of shoreline for fishing, boating, paddleboarding and waterskiing catering to a plethora of recreational activities for its members.
Championship Golf Course Designed by Arnold Palmer and Steve Smyers
The crown jewel of Isleworth Golf & Country Club is undoubtedly its championship golf course, originally designed by the legendary Arnold Palmer and later enhanced by Steve Smyers. This highly demanding 18-hole course offers a challenging layout that tests the skills of even the most seasoned players.
As you step onto the shared 1st and 10th tees, you'll be greeted by a giant sculpture of a bull, setting the stage for an exhilarating round of golf. The course's impeccable greens, strategically placed hazards and stunning views make for a truly unforgettable golfing experience.
And with an exemplary staff and an excellent ambiance at the men's grills, Isleworth Golf & Country Club's golf experience is second to none.
Tennis Center and Fitness Facilities
Complementing the championship golf course is Isleworth's state-of-the-art tennis center designed by Arnold Palmer and enhanced by Steve Smyers. The tennis center boasts six Har-Tru clay courts, providing members with an exceptional tennis experience complete with locker rooms and programs for all skill levels. Whether you're a seasoned pro or just starting out, Isleworth's tennis center is the perfect place to refine your skills and enjoy the camaraderie of fellow tennis enthusiasts.
In addition to golf and tennis, Isleworth Golf & Country Club features a modern fitness center with cutting-edge equipment and facilities. With a range of fitness classes and personal training options, members can maintain an active and healthy lifestyle while enjoying the beautiful surroundings of Isleworth. The fitness facilities also include a luxurious spa, where members can unwind and rejuvenate after a challenging workout or an exciting day on the golf course.
Isleworth Real Estate: Find Your Dream Home
Stepping beyond the country club, Isleworth's real estate offerings are nothing short of spectacular. This 600-acre gated community is renowned for its luxurious estates and prime Central Florida location. Boasting nearly 900 residents, including athletes, CEOs, medical professionals and professional entertainers Isleworth provides an exclusive and prestigious living experience like no other.
Luxury Homes with Private Boat Docks
Isleworth's luxury homes offer unparalleled elegance and sophistication, nestled among grand cypress and oak trees, and surrounded by the renowned Butler Chain of Lakes. With sizes ranging from 2,700 to 24,000+ square feet, these homes boast high-end finishes, spacious layouts, and premium amenities making them the epitome of upscale living.
For those who love life on the water, a number of luxury homes in Isleworth come with private boat docks, perfect for enjoying the interconnected lakes and the beautiful Florida sunshine. Picture yourself cruising the tranquil waters, or simply relaxing on your private dock while taking in the stunning views – it's all possible when you call Isleworth home.
Premier Location in Central Florida
Situated in picturesque Windermere, Florida, Isleworth enjoys a prime location that is both serene and easily accessible to the area's top attractions. The community is just a stone's throw away from the world-class entertainment and attractions of Orlando including Walt Disney World Resort, Universal Studios Florida, and SeaWorld Orlando.
In addition to its proximity to major attractions, Isleworth is surrounded by a host of fine dining and casual eateries, shopping destinations, and entertainment options, ensuring that residents have everything they need within easy reach.
With its premier location, luxurious homes, and exclusive amenities, Isleworth is the epitome of Central Florida living at its finest.
Neighborhood Highlights: Top Spots Around Isleworth Community
The Isleworth community not only offers exceptional golf, real estate, and amenities, but also boasts a wealth of top spots in its surrounding neighborhood. From fine dining and shopping to entertainment and attractions, the area caters to a diverse range of interests and preferences.
Fine Dining and Casual Eateries
For the foodies among us, Isleworth's neighborhood offers a variety of culinary delights to satisfy every palate. Highly-rated restaurants such as Hawkers Asian Street Food, Dim Dim Sum, Tomatoes Home Style Cooking, Dixie Cream Cafe and BurgerFi are just a few of the dining options available near Isleworth.
Whether you're craving Asian-inspired dishes at Hawkers Asian Street Food, a casual atmosphere with a modern flair at Dim Dim Sum, or cozy Southern comfort at Dixie Cream Cafe, the culinary scene around Isleworth is sure to tantalize your taste buds.
And if you're in the mood for a delicious burger, BurgerFi offers a selection of mouth-watering options at competitive prices.
Shopping Destinations
For those who love to shop, Isleworth is surrounded by some of the premier shopping destinations in the Greater Orlando area. Closer to home, you'll find a range of upscale stores, boutiques, and niche shops to satisfy your retail therapy needs.
From trendy fashion and accessories to unique home decor and gifts, the shopping scene around Isleworth offers something for everyone. So whether you're on the hunt for that perfect outfit, a one-of-a-kind piece for your home, or a thoughtful gift for a loved one, you're sure to find it in the bustling shopping destinations near Isleworth.
Entertainment and Attractions
Of course, no neighborhood would be complete without a variety of entertainment and attractions to keep residents engaged and entertained. In addition to the top-notch golf, tennis, and fitness facilities at Isleworth Golf & Country Club, the surrounding area boasts a wealth of options for fun and adventure.
From the thrilling rides and magical experiences of Walt Disney World Resort and Universal Studios Florida to the aquatic wonders of SeaWorld Orlando, the entertainment options near Isleworth are truly endless.
And for those who prefer a more laid-back experience, the community itself offers a range of recreational activities, such as fishing, boating, paddleboarding, and waterskiing.
The History and Legacy of Isleworth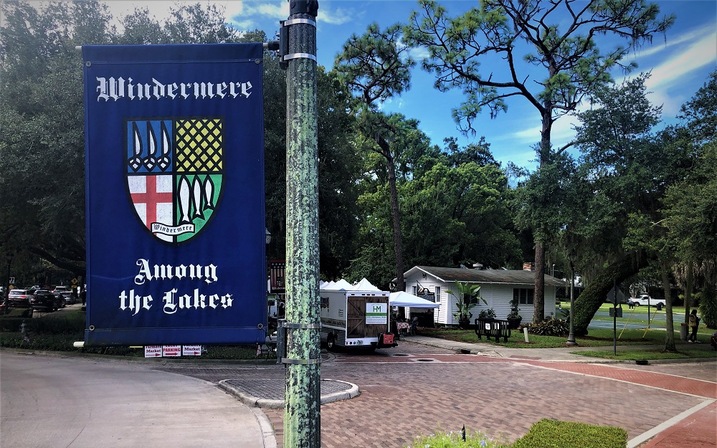 Delving deeper into the Isleworth experience, one cannot overlook the rich history and legacy that has shaped this prestigious community. From its humble beginnings as a citrus grove to its transformation into an exclusive golf and country club, Isleworth's story is one of growth, change, and enduring appeal.
The area has been home to some of the most influential figures in the world, including professional athletes, business moguls, and celebrities. It has also been the site of some of the most memorable moments in history.
Founding and Development
Isleworth's history dates back to the post-Civil War era when the Chase family, a group of citrus grove owners from Philadelphia, purchased land in the area and named it the "Isle of Worth". The land was later sold to the Isleworth Corporation in the late 1970s, which developed it into the prestigious golf and country club that stands today, opening its doors in 1983.
Windermere, the town in which Isleworth is situated, was established as a residential development in 1889 and officially chartered in 1925. The name "Isleworth" is believed to be derived from the Isleworth area in London, England, further adding to the community's rich history and character.
Notable Residents and Members
Throughout its history, Isleworth has been home to a number of renowned personalities, from professional golfers and celebrities to business leaders and philanthropists. Some of the notable residents and members include Tiger Woods, Ernie Els, Vijay Singh, Shaquille O'Neal, and Elin Nordegren, formerly married to Tiger Woods.
These remarkable individuals have not only contributed to the community's prestige and allure, but have also achieved a range of accomplishments in their respective fields, such as Grammy Awards, Emmy Awards, NBA Championships, and PGA Tour wins. Their presence at Isleworth is a testament to the community's enduring appeal and exceptional lifestyle.
Summary
In conclusion, Isleworth offers the ultimate in luxury living, championship golf, and breathtaking real estate, all situated in an exclusive and prestigious community with a rich history. From its world-class amenities and beautiful surroundings to its notable residents and members, Isleworth is truly a unique and unforgettable experience. Discover the best of Isleworth and embrace the lifestyle of your dreams today.
Frequently Asked Questions
How much is a membership at Isleworth?
A membership at Isleworth costs $25,000 for residents and $50,000 for non-residents. With this price, you can enjoy the many amenities of this elite country club and benefit from its professional team of staff and instructors.
The club offers a variety of activities, such as golf, tennis, swimming, and fitness classes. You can also take advantage of the club's spa and salon services, as well as its fine dining.
Does Isleworth have caddies?
Based on the answer provided, Isleworth does have caddies as Joe, a 2 handicap player, was able to play from the second to back tees on September 9, 2022.
Is Isleworth a private course?
Yes, Isleworth is a private golf course. Spanning 600 acres among Central Florida's Butler Chain of Lakes, it is recognized as one of the most prestigious private golf club communities in the world. Featuring championship golf and a collection of amenities paired with extraordinary estate homes, Isleworth is a truly unique and luxurious experience.
Who are members at Isleworth?
As a premier private club, members of Isleworth Golf & Country Club include professional athletes, celebrities, and businessmen. Its world-class amenities make it one of the most exclusive clubs in the United States.
All listing information is deemed reliable but not guaranteed and should be independently verified through personal inspection by appropriate professionals. Listings displayed on this website may be subject to prior sale or removal from sale; availability of any listing should always be independent verified. Listing information is provided for consumer personal, non-commercial use, solely to identify potential properties for potential purchase; all other use is strictly prohibited and may violate relevant federal and state law. The source of the listing data is as follows: Stellar MLS (updated 9/24/23 8:01 PM) |